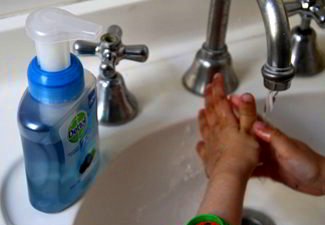 Reckitt Benckiser (RB), the global health and hygiene consumer products leader, unveils its innovative water footprint measurement approach and how it helps hundreds of thousands of people to improve their health and hygiene as part of better business, its new sustainability strategy.
The company's sustainability report, published on June 4, highlights the company's environmental programme and social contribution.
Rakesh Kapoor, CEO of Reckitt Benckiser, says, "Water is an increasingly critical resource around the world and it is vital to our consumers and our business. Our innovative approach to reducing our water impact demonstrates how our sustainability strategy aligns with the emphasis in our business strategy on health and hygiene and emerging markets. We are determined to grow sustainably, helping people to lead healthier lives, and we made excellent progress in 2012."
Environmental Performance

In 2012, RB commissioned innovative research to identify water conservation priorities – taking account of water scarcity as well as actual water usage. Focusing on water scarcity means that the company needs to concentrate on the consumer use of its products, especially hand washing, even though raw materials account for most water use. India is the top priority geographically because it is the country with the biggest impact based on water use, scarcity and the size of company's business there.
Dettol Touch of Foam is an example of innovation that will help meet the company's water targets. It is designed so consumers only need to run water to rinse their hands, not to create the lather, saving about 15% of water compared with conventional hand-wash products.
RB continues to target reductions in carbon emissions across the product lifecycle, following its success in achieving the 2020 target to cut emissions per dose by 20% eight years early. In 2012, the company reduced emissions per dose by a further 5% bringing the total to 25% since 2007.
The Carbon Disclosure Project (CDP) recognised the company's commitment, naming RB as one of only 33 companies worldwide to be listed in the Global 500 Carbon Performance Leadership Index.
RB extended the tree planting programme that makes its manufacturing effectively carbon neutral. They planted 371,000 trees in 2012, bringing the total since they began in 2006 to almost six million, offsetting 1.85 million tonnes of carbon dioxide so far.
The accident rate in RB's factories fell by 94% since 2001, including a 22% reduction in 2012
Eight sites sent no manufacturing waste to landfill – 72% of total waste is now diverted from landfill.
Social Contribution

A Durex campaign in South Africa reached 100,000 students in 100 secondary schools with information on sexual health, while the brand donated five million condoms in more than 40 countries in support of World AIDS Day.
A Dettol campaign in India reached more than 14,000 school-children in 65 cities with hygiene messages stressing the importance of hand-washing in stopping the spread of germs
Mortein, RB's insecticide brand, sponsored teams of nurses and midwives in Nigeria who provided malaria testing and advice on protection with insecticide to more than 5,000 women in 80 antenatal clinics and maternal care centres
The Healthier Kids Happier Homes partnership with Save the Children reached more than 350,000 people supporting the charity's health work in over 40 countries, including Indonesia, Mexico, Nigeria, Romania and South Korea.
RB donated £300,000 to Save the Children's emergency fund and 120,000 bars of Dettol soap to families in the Zata'ari camp in Jordan who had been made homeless by the conflict in Syria.
Employees helped to raise funds for the charity – and overall RB gave £3.5m in 2012. The partnership started with just £100K and RB has contributed £11 million since then. In 2013, RB committed to contribute a further £23.5 million over the next three years.
The sustainability report contains full details of performance in all areas, independently assured by Ernst & Young.
Check the following link to read/download the Full Report:
https://www.rb.com/documentdownload.axd?documentresourceid=48859
Source: Reckitt Benckiser.
Notes:
Reckitt Benckiser's sustainability strategy has three headline targets for 2020: 1/3 net revenue from more sustainable products, 1/3 reduction in water impact across the product lifecycle, 1/3 further reduction in carbon footprint across the product lifecycle. The company's partnership with Save the Children also has the ambition to stop diarrhoea being the world's biggest killer of children under five by 2020. Their strategic priorities are Health and Hygiene Behaviour and Water Use.