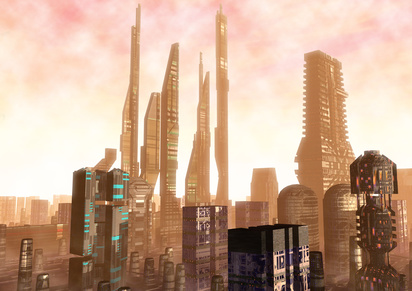 Cities around the globe need to re-invent themselves if they want to be a safe home for generations to come. Nobel Laureates call upon cities to tackle the dual challenge of population growth and climate change and seize the opportunity to lead the transition to sustainability. National and internationally agreed greenhouse-gas reduction targets need to guide and support local action. The distinguished scientists signed a memorandum this week in Hong Kong at the end of the three-day Nobel Laureates Symposium on Global Sustainability, convened for the first time in Asia. The Symposium was co-hosted by the Potsdam Institute for Climate Impact Research and the Asia Society Hong Kong Center.
"We challenge all city governments, innovators, and the private sector to work together to unlock necessary resources and enable evidence-based local action to limit further man-made climate change," the memorandum reads. Entitled 'The Great Urban Transformation,' the memorandum states, "We challenge nations to adopt and meet national targets consistent with the internationally-agreed 2°C guardrail. We challenge national political leaders and policymakers to heed the call – not only from leading scientists and economists – but from their own cities and citizens – to generate a strong, equitable, and science-based agreement at the UN Climate Summit in Paris, in partnership with mayors, business leaders and civil society."
The Hong Kong Symposium focused on the role of cities in the face of climate change, under the title "4C: Changing Climate, Changing Cities" – a reference to the fact that global warming, if unabated, will reach four degrees Celsius already by the end of the century. This rapid rise would be unprecedented in the history of human civilization.
"I have no right to be pessimistic. None of us do."
"If we do not act boldly and reduce our greenhouse-gas emissions, the impacts of global warming will hit hard," said Nobel Laureate Yuan T. Lee (Chemistry, 1986) from Taiwan, who until recently served as the President of the International Council for Science in Paris. "Especially cities are prone to climate change risks such as unprecedented heat-waves or flooding. Countries spend enormous sums to defend themselves against other nations. They forget that climate change is our biggest, and common, enemy. Cities seem to understand this much better, and they're indeed critical for combating climate change as they're a prime cause for CO2 emissions. Many of them are indeed pioneering."
"I am optimistic, because I have no right to be pessimistic. None of us do," Lee added. "My little granddaughter once asked me: Did your life as a scientist actually make a difference? If, together, we work hard to change, I eventually will be able to tell her, that we tried – and we did."
"Some of the brightest minds of our planet, a number of Nobel Laureates, have intensely debated what they deem to be one of the greatest challenges of our times: climate change," said Penny Sackett of the Australian National University, former chief scientist of Australia, who led the memorandum team. "They have a plain message: the future of humanity is at stake. We are at a watershed moment."
The cities of tomorrow are forming today, determining emissions
Since the cities of tomorrow are forming today, determining the greenhouse-gas emissions for decades to come, smart infrastructure design is key. This is particularly true for Asia which hosts nine out of the world's ten largest urban areas, including Tokyo and Shanghai.
"The cities of the world provide some 100,000 laboratories, where modernity can be re-invented, and where the transition to sustainability can be tested and implemented, " said John Schellnhuber, Director of the Potsdam Institute for Climate Impact research and initiator of the Symposium series. "Human progress in the future will be based on our renewable energies, on circular economies, on unprecedented resource efficiency. Cities have always been the 'mothers of invention', so they will lead by example on the road towards global decarbonization. However, the urban challenges are very diverse: while mature and rich settlements can rapidly enter a climate-friendly state, billions of people in informal settlements first need to be provided with fundamental services. Yet even the latter can be addressed in ways that do not harm the local, regional and global environment."
Hong Kong could serve as a laboratory for change
Participants of the Hong Kong Symposium included Nobel Laureates Brian Schmidt (Physics, 2011, from Australia), James Mirrlees (Economics, 1996, from the U.K.), Rioyi Noyori (Chemistry, 2001, from Japan), William E. Moerner (Chemistry, 2014, U.S.), Mario Molina (Chemistry, 1995, Mexico) Ada Yonath (Chemistry, 2009, Israel), Peter Doherty (Medicine, 1996), George F. Smoot (Physics, 2006, U.S.), and Yuan T. Lee (Chemistry, 1986). Numerous experts participated in the debate, including Jiang Kejun, Director of the Energy Research Institute of the National Development and Reform Commission of China, Christine Loh, Under Secretary for the Environment of The Government of the Hong Kong Special Administration Region, Aromar Revi, Director of the Indian Institute for Human Settlements, and Johan Rockström of the Stockholm Resilience Centre.
"I believe we're sending a strong message from Hong Kong to the world: fundamentally greening city development is necessary, and it is possible," stated Ronnie C. Chan, Chairman of the Asia Society Hong Kong Center and co-host of the Symposium. "We deeply appreciate that the Nobel Laureates and distinguished experts came to us to debate this critical issue. Given the importance of megacities – especially the rapidly growing ones in Asia – for global greenhouse-gas emissions, Hong Kong could serve as a laboratory of change."
Source: PIK