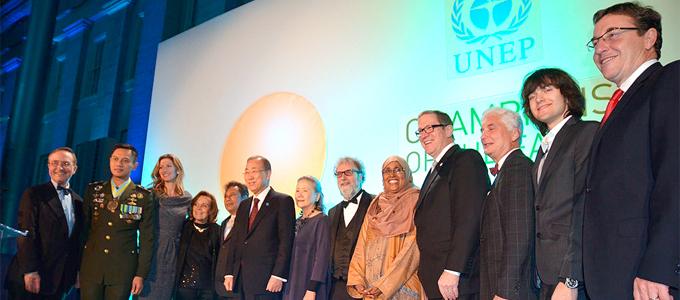 These awards recognize men and women from the fields of policy, science, entrepreneurship and civil society whose initiatives have left a positive and lasting impact on the environment.
---
The United Nations Environment Programme (UNEP) is inviting nominations for the 2015 Champions of the Earth – the United Nations flagship environment award, which recognizes outstanding environmental visionaries and leaders and seeks to build momentum for the transition to a sustainable future.
Since its establishment in 2005, the prize has honored individuals and organizations at the cutting edge of innovative thinking on environmental challenges-men and women whose actions and leadership have contributed to ensuring the environment can serve as a driver of sustainable development.
From young thinkers bringing alive their dreams of a better world in areas such as marine conservation to politicians challenging the status quo to move their countries away from brown development paths, UNEP's Champions have demonstrated that change is not just possible, but is happening across the globe.
"These awards recognize men and women from the fields of policy, science, entrepreneurship and civil society whose initiatives have left a positive and lasting impact on the environment," said UN Secretary General Ban Ki-moon. "They demonstrate that every sector and age group can provide the leadership and vision we need to bring about positive transformative change."
This year, as the world gears up to adopt a new sustainable development agenda and conclude a global agreement that aims to tackle definitively the threat of climate change, UNEP is particularly interested in individuals and organizations all over the world that show leadership and are taking action on sustainable development and climate change. Women and youth nominees are also strongly encouraged.
"Champions of the Earth are outstanding environmental leaders, thinkers and achievers who have stood up to be counted and have often challenged the status quo to show us the way towards a sustainable future," said UN Under-Secretary-General and UNEP Executive Director, Achim Steiner. "The Champions and their stories of dedication and environmental leadership must inspire us all to take on the toughest environmental challenges and to push the boundaries of human endeavour to safeguard the future of our planet."
The Awards will recognize exemplary leaders in the following categories: Policy Leadership, Science and Innovation, Entrepreneurial Vision, and Inspiration and Action.
Nominees should include
Visionary policy leaders who have demonstrated and inspired global political will in promoting initiatives and policies that advance inclusive and sustainable growth.
Forward-looking companies and business leaders who have transformed their business models for sustainable development, and have been leading the way towards ethics-driven and sustainable investment.
Members of the scientific community who have advanced the science-policy interface and continue to offer the best available scientific evidence of risks and opportunities to inform decision-making.
Grassroots advocates and doers that empower underserved communities and show how inclusivity can be achieved alongside sustainable prosperity.
The deadline for nominations is 31 March 2015. The 2015 winners will be unveiled at a high-profile gala event in September in New York. For more details click here.
The full list of the 2014 Champions of the Earth is as follows:
FOR POLICY LEADERSHIP
H.E. Tommy Remengesau, Jr. President of Palau for turning a climate risk into an economic opportunity by boosting Palau's eco-tourism through biodiversity protection.
Sixth President of Indonesia, Susilo Bambang Yudhoyono for leading a new breed of global leaders who champion sound environmental stewardship as a means to economic growth.
FOR ENTREPRENEURIAL VISION
U.S. Green Building Council for transforming the design, construction and operation of our living and work spaces towards greater energy and economic efficiency.
FOR SCIENCE AND INNOVATION
Sir Robert Watson, Eminent Environmental Scientist for being one of the world's leading climate scientists who promote the science behind ozone depletion, global warming and biodiversity.
FOR INSPIRATION AND ACTION
Boyan Slat, Founder of The Ocean Clean-up Initiative for taking on the challenge of cleaning up the world's oceans.
Fatima Jibrell, Founder of Adeso (formerly Horn Relief) for championing community-led change to protect Somalia's pastoral way of life and fragile environment.
FOR LIFETIME LEADERSHIP
Sylvia Earle, Ocean Explorer and Conservationist for a lifetime of leadership in ocean exploration and conservation, championing the fundamental role of oceans in global ecosystems.
Mario Molina, Nobel Laureate and Renowned Ozone Scientist for a lifetime of leadership that paved the way for decades of action under the Montreal Protocol, one of the most significant climate-related global agreements ever made.