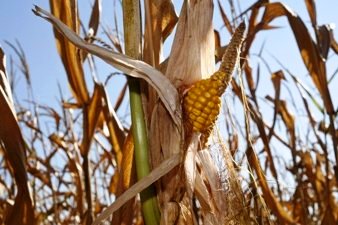 A new Ceres report released on June 11 shows that water and climate change risks are rising in the $67 billion U.S. corn sector, contributing to production and price volatility and growing concern by corn buyers that the nation's largest crop needs to be grown more sustainably.
The report provides new data and interactive maps on wide-ranging threats to U.S. corn production, including extreme weather events, groundwater depletion in regions with heavy irrigation demand, and contamination of waterways from inefficient fertilizer use.
Among other statistics, the report finds that 87 percent of irrigated corn production is grown in water-stressed regions, and that corn growers in the Mississippi River Basin lost nearly half a billion dollars-worth of fertilizer in 2013 due to agricultural run-off into the Gulf of Mexico's "dead zone".
In response to these risks, a growing number of food and retail companies that rely on corn are developing supply chain initiatives to encourage more resilient and sustainable agricultural production in the sector, which has nearly doubled in size in the past two decades.
"Escalating corn production for our food, livestock and energy industries has put the corn sector on an unsustainable path, especially in regard to water quality and water use impacts and the growing ripples from climate change," said report author Brooke Barton, Water Program Director at Ceres, a non-profit sustainability advocacy group that works with companies and investors. "Corn buyers have an important role in recognizing this challenge and it's encouraging that some are already trying to influence agricultural practices. Still, much more action is needed."
Among the key findings and recommendations in the report, "Water & Climate Risks Facing U.S. Corn Production: How Companies & Investors Can Cultivate Sustainability":
Groundwater Depletion and Irrigation Risks

Using GIS analysis, USDA and USGS data, as well as water stress maps from the World Resources Institute's Aqueduct Water Risk Atlas, the report finds:
Over half of the country's irrigated corn production, worth nearly $9 billion annually, depends on groundwater from the over-exploited High Plains aquifer, which extends from South Dakota to Texas.
87 percent of irrigated corn is grown in regions with high or extremely high water stress, meaning there is limited additional water available for expansion of crop irrigation. Many of these same regions can also expect worsening water shortages due to climate change. Corn-growing areas in Nebraska, Kansas, California, Colorado and Texas are the most vulnerable.
$2.5 billion of corn grain is grown in 20 counties over portions of the High Plains aquifer where groundwater levels are rapidly declining. Five counties in particular have over $150 million each in annual corn grain production at risk from groundwater depletion: Yuma County in Colorado, and York, Hamilton, Adams and Filmore counties in Nebraska.
36 ethanol refineries are located in and source corn irrigated with water from the High Plains aquifer. Of these, 12 refineries, with an ethanol production capacity worth nearly $1.7 billion a year, are in areas where aquifer water levels are dropping.
"No doubt, groundwater resources are being strained by corn production, especially in Kansas and my home state Texas, which face extraordinary groundwater depletion challenges," said Bridget Scanlon, a groundwater specialist who leads the Sustainable Water Resources Program at the University of Texas. "The U.S. corn sector needs to greatly reduce its dependence on the High Plains aquifer. Failing to do so will have long-term negative consequences, including reduced agricultural productivity and less water for other uses."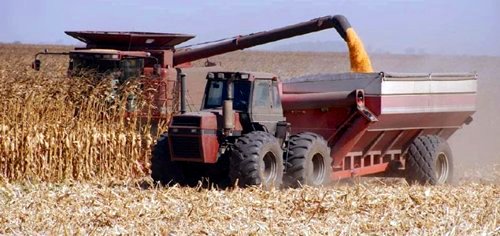 Climate Change Risks

Despite a bumper U.S. harvest in 2013 and lower corn prices in 2014, many of the drivers of high corn prices, price volatility and overall risk are likely to worsen, in large part due to climate change. Severe droughts, floods and heatwaves at key moments in the corn-growing season are becoming increasingly common, causing dramatic year-to-year supply shocks. Among the recent examples: record high corn prices in the wake of extreme flooding in spring 2011 and the prolonged drought in 2012.
According to the latest National Climate Assessment released in May, the negative effects of climate change on agricultural production in the Midwest and Great Plains will outweigh any positive effects. Corn plants are particularly sensitive to high temperatures (which can reduce pollination and grain count) as well as to drought. Higher temperatures and increased water stress mean that increased irrigation for corn will be required. Given limited water availability in many parts of the High Plains, a northward shift in corn acreage is predicted. More frequent and intense precipitation events in the Midwest are also expected to negatively affect farmers' ability to plant and increase run-off and erosion.