There are five specifies of rhino. The Javan, Sumatran and Indian rhinos are found in Asia; the first two are considered critically endangered and Indian rhinos are considered vulnerable by the IUCN's Red List. The Javan subspecies of rhino in Viet Nam was declared extinct by the WWF in October 2011. In Africa as of 2012, the number of black rhinos in the wild is estimated at 5,000 individuals and that of white rhinos at 20,000. The western black rhino was also declared extinct in November 2011.
Stolen Apes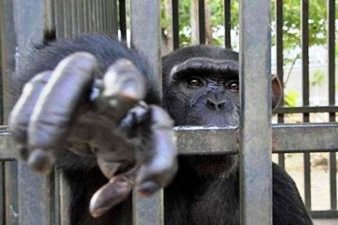 A UNEP study showed that almost 3,000 live great apes are being taken from the forests of Africa and Southeast Asia each year, with main markets including the tourist entertainment industry, disreputable zoos, and individuals who wish to buy great apes as exotic pets.
According to the report – "Stolen Apes: The Illicit Trade in Chimpanzees, Gorillas, Bonobos and Orangutans" – which was produced by UNEP through the Great Apes Survival Partnership (GRASP) – a minimum of 22,218 great apes have been lost from the wild since 2005, either sold, killed during the hunt, or dying in captivity. Chimpanzees comprise about 64 per cent of that number.
The report also estimates that, over the past seven years, a minimum of 643 chimpanzees, 48 bonobos, 98 gorillas and 1,019 orangutans are documented to have been captured from the wild for illegal trade. These figures are just the tip of the iceberg, and extrapolating from this research the report estimates that at least 2,972 great apes are lost from the wild each year.
Illegal Logging
Research by UNEP and INTERPOL estimates that between 50 and 90 per cent of logging in key tropical countries of the Amazon basin, Central Africa and South East Africa is being carried out through organized crime, threatening efforts to combat climate change, deforestation, conserve wildlife and eradicate poverty.
Globally, illegal logging – worth between US$30-$100 billion annually – accounts for between 15 and 30 per cent of the overall global trade, according to a recent report released by UNEP and INTERPOL, titled "Green Carbon, Black Trade: Illegal Logging, Tax Fraud and Laundering in the World's Tropical Forests". The transnational nature of illegal logging raises difficulties for law enforcement and regulators, who are often limited in their ability to work outside of their jurisdiction.
Source: UNEP.