Most recently, the UN Security Council has, in two separate and unanimously adopted resolutions, recognized the direct link between the illegal exploitation of wildlife and ongoing conflicts in central Africa. It noted specifically that the illegal exploitation of natural resources – including poaching and wildlife trafficking – was linked to the proliferation of weapons and was one of the "major factors fueling and exacerbating conflicts" in the Great Lakes region of Africa.
In 2010, the CITES Secretariat, INTERPOL, the UN Office on Drugs and Crime, the World Bank and the World Customs Organization joined forces to create the International Consortium on Combating Wildlife Crime (ICCWC), which works to ensure that perpetrators of serious wildlife crimes face a formidable and coordinated response.
In 2012, Project LEAF (Law Enforcement Assistance for Forests) – a consortium of forest and climate initiatives that aims to combat illegal logging and organized forest crime – was established, led by the INTERPOL Environmental Crime Programme and UNEP's collaborative centre in Norway (GRID-Arendal).
During the 16th Conference of Parties to CITES in Bangkok in March 2013, for example, some 170 countries backed moves to afford increased protection status to hundreds of timber species, certain tortoises and turtles, and other plant and animal species.
In January 2014, the European Parliament approved a motion on a Resolution on Wildlife Crime – which called for measures that would place it on the same level as human and drug trafficking – and which called for the establishment of an EU plan of action against illegal wildlife trade.
In February 2014, the United States government took a decision to work to "protect iconic species like elephants and rhinos by prohibiting the import, export, or resale within the United States of elephant ivory" as part of a National Strategy for Combating Wildlife Trafficking.
Also in February 2014, at the London Conference on Illegal Wildlife Trade, 46 countries agreed on a declaration containing a series of commitments, including addressing corruption, adopting legislation for tougher penalties against poachers, and recruiting more law enforcement officers.
These moves have been echoed around the world as countries from France to Chad to China have destroyed national ivory stockpiles in a symbolic show of solidarity with the anti-poaching movement. However, it is widely acknowledged that more action is urgently needed. Fast-track measures should be implemented to address the current poaching crisis, taking into account the diverse socio-economic, legal and market dynamics across range, transit and consumer states.
Such measures must include strengthening law enforcement, building adequate human and financial capacity, raising public awareness, and fighting collusive corruption, as well as supporting national legislation and curbing demand for wildlife products that are illegally sourced or unsustainably harvested. In addition, longer-term considerations need to be given to natural resource management and sustainable economic development, based on sovereign priorities and choices.
Implementing nationally and internationally agreed biodiversity strategies and targets – such as the "Aichi Targets" set by the Convention on Biodiversity's 2011-2020 Strategic Plan – must be at the heart of such action.
Finally, for such mechanisms to become truly effective, adequate political and appropriate financial support is needed.
Elephants in the Dust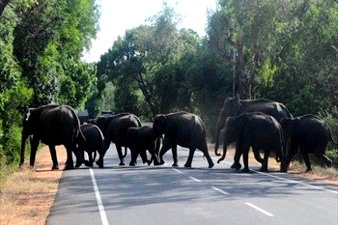 According to a recent study by UNEP and partners, entitled "Elephants in the Dust", the number of elephants killed illegally in Africa has doubled, while the ivory trade has tripled, over the past decade.
Increasing poaching levels, as well as loss of habitat, are threatening the survival of African elephant populations in Central Africa as well as previously secure populations in West, Southern and Eastern Africa. Demand for illegal ivory remains highest in the rapidly growing economies of Asia, particularly China. Large-scale seizures of ivory destined for Asia doubled between 2009 and 2013. Weak governance in source, transit and destination countries is also contributing to the problem.
Data from the Convention on International Trade in Endangered Species (CITES) monitoring programme Monitoring the Illegal Killing of Elephants (MIKE) showed that 17,000 elephants were illegally killed in 2011. MIKE covers areas home to around 40 per cent of African elephants, meaning that the true findings may well be even higher. The number of African elephants illegally killed in 2012 is estimated at 22,000, and preliminary indications show that the number may be even higher for 2013.
Besides illegal killings, elephants are also threatened by the increasing loss of habitat in around 29 per cent of their range areas – primarily as a result of human population growth and agricultural expansion. According to Elephants in the Dust, this figure could rise to 63 per cent by 2050, posing a major threat to the long-term survival of the species.
A new mini-documentary, "On Elephants and Ivory Poaching", featuring the renowned Chinese actress and UNEP Goodwill Ambassador Li BingBing, was launched at UN Headquarters in Nairobi on March 3.
Rhinos Facing Extinction
CITES estimates that the number of rhinoceroses poached in South Africa rose from 13 in 2007 to 448 in 2011, with a demand that continues to grow. Such demand comes principally from Asia, with the major destination appearing to be Viet Nam.
According to CITES, increasing levels of demand have been fueled by rumours of rhino horn being a cure for cancer. The horn is also used as a recreational drug in the form of "rhino wine", which is rumoured to improve male sexual performance, and to clean the body of toxins. None of these uses of rhino horn are recognized in traditional medicine.