Fostering Climate Change Resilience
This sigma includes a special chapter on climate change, which is widely acknowledged to be caused by rising greenhouse gas emissions. Industrialization and human activity has led to a significant increase in greenhouse gas emissions which, alongside natural variability, have pushed global temperatures higher.
Rising temperatures are expected to lead to more frequent and severe extreme weather events in the future. If no action to reduce greenhouse gas emissions is taken, these events are likely to become an increasingly important factor in the ongoing upward trend of total losses. As this sigma report shows, along the US Gulf Coast, for example, the economic loss potential of climate change may rise to USD 21.5 billion per annum by 2030. However, "a number of cost-efficient adaptation measures are available, and these together could lower damages by 35%," says David Bresch, Global Head Sustainability at Swiss Re. "Among the most attractive adaptation measures are beach nourishment, levees, roof cover retrofits and improved building codes."
Risk prevention and avoidance, and disaster risk management measures can help build resilience to climate change. So too can risk transfer solutions, by providing financial relief after a disaster has struck. Risk transfer does not stand in isolation: it is an integral part of any climate adaptation strategy.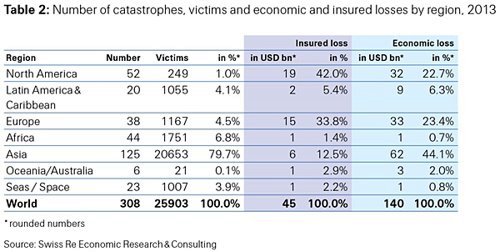 Check the following link to access the Full Study:
http://media.swissre.com/documents/sigma1_2014_en.pdf
Source: Swiss Re.
About Swiss Re
The Swiss Re Group is a leading whole-sale provider of reinsurance, insurance, and other insurance-based forms of risk transfer. Dealing direct and working through brokers, its global client base consists of insurance companies, mid-to-large-sized corporations, and public sector clients. From standard products to tailor-made coverage across all lines of business, Swiss Re deploys its capital strength, expertise, and innovation power to enable the risk-taking upon which enterprise and progress in society depend. Founded in Zurich, Switzerland, in 1863, Swiss Re serves clients through a network of over 60 offices globally and is rated "AA-" by Standard & Poor's, "Aa3" by Moody's, and "A+" by A.M. Best. Registered shares in the Swiss Re Group holding company, Swiss Re Ltd., are listed on the SIX Swiss Exchange and trade under the symbol SREN. For more information about Swiss Re Group, visit www.swissre.com.