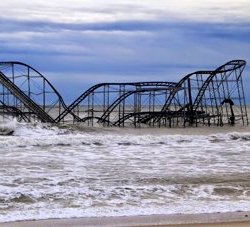 New York – The American economy could face significant and widespread disruptions from climate change unless U.S. businesses and policymakers take immediate action to reduce climate risk, according to a new report released on June 24.
The report, "Risky Business: The Economic Risks of Climate Change in the United States", summarizes findings of an independent assessment of the impact of climate change at the county, state, and regional level, and shows that communities, industries, and properties across the U.S. face profound risks from climate change. The findings also show that the most severe risks can still be avoided through early investments in resilience, and through immediate action to reduce the pollution that causes global warming.
The Risky Business report shows that two of the primary impacts of climate change – extreme heat and sea level rise – will disproportionately affect certain regions of the U.S., and pose highly variable risks across the nation.
In the U.S. Gulf Coast, Northeast, and Southeast, for example, sea level rise and increased damage from storm surge are likely to lead to an additional $2 to $3.5 billion in property losses each year by 2030, with escalating costs in future decades. In interior states in the Midwest and Southwest, extreme heat will threaten human health, reduce labour productivity and strain electricity grids. Conversely, in northern latitudes such as North Dakota and Montana, winter temperatures will likely rise, reducing frost events and cold-related deaths, and lengthening the growing season for some crops.
The report is a product of The Risky Business Project, a joint, non-partisan initiative of former Treasury Secretary Henry M. Paulson, Jr., Mayor of New York City from 2002-2013 Michael R. Bloomberg, and Thomas P. Steyer, former Senior Managing Member of Farallon Capital Management. They were joined by members of a high-level "Risk Committee" who helped scope the research and reviewed the research findings.
The Risky Business Project represents a first-of-its-kind effort to combine the best available projections for changes in local climate conditions across the United States with empirically-derived estimates of the fiscal impact of those changes on key sectors of the U.S. economy. The Risky Business Project presents a new approach to understanding the possible costs of unmitigated climate change, providing businesses, investors, households and policymakers with critical information about the nature of the climate risks they face. The project's independent research team analyzed low-probability, high-impact climate events, as well as those most likely to occur. Consideration of such "tail risks" is critical for investors and businesses accustomed to buying insurance against potentially catastrophic losses.
"The Risky Business report shows us that our economy is vulnerable to an overwhelming number of risks from climate change," said Hank Paulson. "These risks include the potential for significant federal budget liabilities, since many businesses and property owners turn to the federal government as the insurer of last resort. But if we act immediately, we can still avoid most of the worst impacts of climate change and significantly reduce the odds of catastrophic outcomes – but the investments we're making today will determine our economic future."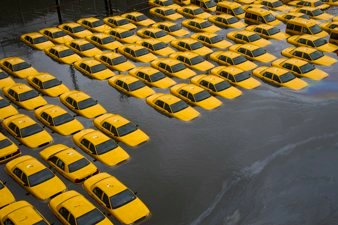 "Damages from storms, flooding, and heatwaves are already costing local economies billions of dollars – we saw that firsthand in New York City with Hurricane Sandy," said Michael R. Bloomberg. "With the oceans rising and the climate changing, the Risky Business report details the costs of inaction in ways that are easy to understand in dollars and cents – and impossible to ignore."
"Climate change is nature's way of charging us compound interest for doing the wrong thing," said Tom Steyer. "The Risky Business report confirms what many of us have long suspected: the longer we wait to address the growing risks of climate change, the more it will cost us all. From a business perspective, given the many benefits of early action, it would be silly to allow these risks to accumulate to the point where we can no longer manage them."
In analyzing different regions of the country, the Risky Business report found that the most likely impacts of climate change are distributed unevenly across the country, reflecting broad geographic diversity.
The report also analyzed four different scenarios for levels of greenhouse gas emissions, and found that lower emissions scenarios carry considerably less risk; detailed impact results focused on the current pathway, commonly referred to as "business as usual".
Examples of likely impacts include:
Large-scale losses of coastal property and infrastructure
If we continue on our current path, by 2050 between $66 and $106 billion worth of existing coastal property will likely be below sea level nationwide, growing to $238 to $507 billion by 2100.
There is a 1-in-20 chance that by the end of this century, more than $701 billion worth of existing coastal property will be below sea level, and that average annual losses from hurricanes and other coastal storms along the Eastern Seaboard and Gulf of Mexico will grow by more than $42 billion due just to sea level rise alone. Potential changes in hurricane activity could raise this amount to $108 billion.
Property losses from sea level rise will disproportionately affect the Southeast and Atlantic coasts, where rise is expected to be higher and the losses far greater than other coastal areas.