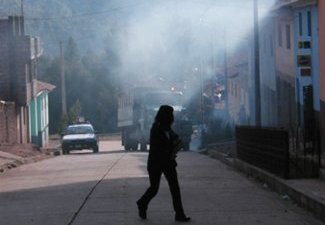 Neuherberg – Long-term exposure to particulate matter is associated with an increased risk for heart attack. Moreover, this association can already be observed in levels of particulate exposure below the current specified European limit values. These are the results of a European research team led by scientists of Helmholtz Zentrum München in a population study published in the British Medical Journal.
The ESCAPE study* investigates the effects of air pollution on health. In eleven participating population groups in Finland, Sweden, Denmark, Italy and Germany, the association between air pollution and incidence of coronary events has now been determined. The results show that high particulate matter concentration at the residence location may increase the risk for an acute coronary event.
The scientists, including the team led by Prof. Dr. Annette Peters and Dr. Kathrin Wolf of the Institute of Epidemiology II (EPI II) at Helmholtz Zentrum München, evaluated data from more than 100,000 participants. At enrollment, all study participants were free from cardiovascular diseases. The participants were followed for incident coronary events for an average period of 11.5 years. Event incidence was then compared to concentrations of particulate matter with a diameter less than 10 micrometers (PM10) and inhalable particles smaller than 2.5 micrometers (PM2.5), and nitrogen oxides (NOx) at the residence location.
During the study period, a total of 5,157 individuals suffered a heart attack or unstable angina pectoris, both generally caused by calcification of the coronary vessels. An increase of 5 µg/m³ of annual concentration of PM2.5 or 10 µg/m³ of PM10 in the ambient air led to a 13 and 12 percent increased risk of heart attack, respectively. And the risk remained elevated even at levels below the current EU limit values of 25 µg/m³ for PM2.5 and 40 µg/m³ for PM10.
"Our results show that exposure to particulate matter poses a significant health risk – and an even greater risk than previously thought," said Professor Peters, lead author of the study. "The adverse health effects that occurred at exposure levels below the current specified limits are particularly alarming. The study, therefore, supports the demands to lower these limits."
This study "has specific relevance to the management of air quality in Europe," say Professor Michael Brauer and Professor John Mancini from the University of British Columbia, in an accompanying editorial.
Environmental and lifestyle factors contribute significantly to the development of wide-spread diseases in Germany, such as cardiovascular disease and diabetes mellitus. The aim of Helmholtz Zentrum München is to develop new approaches for the diagnosis, treatment and prevention of major common diseases.
Check the following link to read/download the Full Study – "Long-term Exposure to Ambient Air Pollution and Incidence of Acute Coronary Events: Prospective Cohort Study and Meta-Analysis in 11 European Cohorts from the ESCAPE Project":
http://www.bmj.com/content/348/bmj.f7412
Source: Helmholtz Zentrum München (German Research Center for Environmental Health).
* ESCAPE: The European Study of Cohorts for Air Pollution investigates long-term effects on human health of exposure to air pollution in Europe.