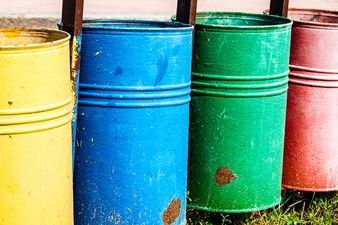 Vienna – Some 3.5 billion people, or half of the world's population, are without access to crucial waste management services, posing significant environmental and health hazards and harming economies.
This staggering statistic is the baseline for a new document released by the United Nations Environment Programme (UNEP) and the United Nations Institute for Training and Research (UNITAR) on October 7.
"The Guidelines for National Waste Management Strategies: Moving from Challenges to Opportunities" seeks to provide strategic guidance to countries whose waste management systems are disorganized, haphazard or under-resourced, or are in need of a review of their current strategies.
Open dumping – the most prevalent waste disposal method in many countries – can lead to acute health impacts for those living closest to dumping sites, most often the urban poor. In addition, poor waste management can lead to significant environmental hazards: leachate from waste can contaminate soil and water, open burning of waste can cause air pollution and a failure to use recycled materials from waste means an acceleration in the depletion of 'raw' materials.
Some key facts about waste:
Waste Generation: Every year, an estimated 1.3 billion tonnes of solid waste is collected worldwide. This figure is expected to increase to 2.2 billion tonnes by 2025, with almost all of the increase from developing countries.
Greenhouse Gases: Decay of the organic fraction of solid waste contributes about 5 percent of global greenhouse gases.
Market Size: The global waste market, from collection to recycling, is estimated at US $ 410 billion a year, not including the sizable informal segment in developing countries.
Resource Savings: Recycling a tonne of aluminium saves 1.3 tonnes of bauxite residues, 15 m3 of cooling water, 0.86 m3 of process water and nearly 40 barrels of oil, while preventing the emission of 2 tonnes of carbon dioxide and 11 kg of sulfur dioxide.
Employment: In 2000, recycling activities in the European Union generated over 229,200 jobs, which by 2008 had increased to nearly 512,340 – an annual growth rate of over 10.5 percent. The proportion of people employed in waste-related recovery activities in Europe increased from well over 400 persons per million inhabitants in 2000, to over 600 in 2007, an increase of some 45 percent.
Food Waste: Globally, about one-third of food produced for human consumption is lost or wasted, amounting to about 1.3 billion tonnes per year.
Profitability: One tonne of electrical and electronic waste (e-waste) contains as much gold as 5-15 tonnes of typical gold ore, and amounts of copper, aluminium and rare metals that exceed by many times the levels found in typical ores. Printed circuit boards are "probably the richest ore stream you're ever going to find".
As an early response to the recommendations of the 2012 United Nations Conference on Sustainable Development (Rio+20), the Guidelines sets a conceptual and methodological framework for national planning to reduce these risks. Countries are encouraged to adapt this framework to their particular circumstances.
The report stresses that management is not only a challenge, it is also a largely untapped opportunity. Benefits are reaped when waste is treated as a resource that can be recovered and put to productive and profitable use. Products can be reused and, if waste is separated at source, the uncontaminated organic fraction can be composted or digested anaerobically.
Improving the operation of waste pickers in collecting and recycling useful products and materials can lead to better economic outcomes for the waste pickers themselves; to better quality organic waste that can be composted and used to improve soils; and to less need for investment in landfill facilities.
Even more progress can be made if production and consumption processes are re-evaluated, so that all the inefficiencies, losses and adverse impacts associated with generating and managing waste are reduced, or, for certain kinds of products, even eliminated completely.
Among other guidance, the Guidelines offers a series of practical steps that can lead to the creation of an effective, efficient national waste management strategy. They include:
Preparing for the development of a national strategy by identifying leaders and gathering information, in particular through a baseline study.
Identifying the fundamental elements of the strategy, including: establishing scope, identifying an overarching goal, estimating expected national benefits and identifying initial options for financing and resourcing.
Engaging with all relevant parties, taking into account the wide range of groups and interests involved. Securing political endorsement at an early stage is a critical step.
Examining the situation and analyzing gaps, focusing on the wider context and identifying relevant national priorities (e.g., related to health or development), the information base for strategy, the current state of waste management and the available technical infrastructure and its adequacy, among other key elements.
Setting priorities, in particular, identifying waste streams and urgent waste issues such as collection. Other broader issues requiring priority attention, such as investment or funding needs, should also be identified.
Developing a national strategy composed of a systematic assembly of policy choices.
The Guidelines also stress the importance of implementing national strategies, as well as the need to adjust or revamp strategies based on changing circumstances and depending on the local context.
Check the following link to read/download the Guidelines:
http://www.unep.org/ietc/Portals/136/Publications/Waste%20Management/UNEP%20NWMS%20English.pdf
Source: UNEP.