Nairobi – The United Nations Environment Programme (UNEP) has welcomed an agreement by world leaders at the G20 Summit in Moscow to renew efforts to tackle climate change by reducing emissions of potent greenhouse gases known as hydrofluorocarbons (HFCs).
Governments from some 25 nations and the European Union agreed that phasing down the use of HFCs – carried out in parallel to reductions of carbon dioxide (CO₂) emissions under the United Nations Framework Convention on Climate Change (UNFCCC) – will make a vital contribution to tackling the effects of climate change.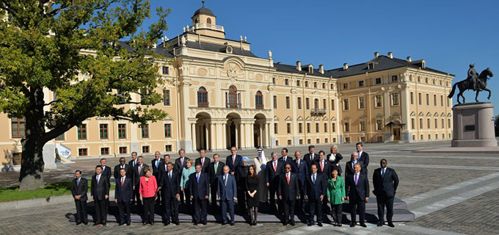 HFCs are widely used in refrigerators, air-conditioners, and industrial applications as replacements for ozone-depleting substances being phased out under the UN's universally-ratified Montreal Protocol on Substances that Deplete the Ozone Layer.
HFC emissions represent less than 1 per cent of current total greenhouse gases, but their warming impact is considerably stronger than CO₂. If left unchecked, they could account for up to nearly 20 per cent of carbon dioxide emissions by 2050.
According to UNEP, fast action on HFCs and other non-CO₂ pollutants, could cut the rate of global warming by up to 0.5 degrees Celsius, reduce crop losses by over 30 million tonnes a year, and save millions of lives through fewer respiratory illnesses.
"The leaders of the G20 group of nations have provided another positive signal towards the goal of realizing a universal climate agreement by 2015 under the UN climate convention and the ultimate aim of sharply bringing down greenhouse gas emissions in line with the scientific imperative," said Achim Steiner, UN Under-Secretary General and UNEP Executive Director.
"A sense of urgency and a willingness to act down multiple tracks is of the essence. While many countries can point to positive action in respect to emissions and a transition to a low carbon, resource-efficient and inclusive green economy, the stark reality is that levels of pollution in the atmosphere continue to rise with all the risks to lives, livelihoods and the global economy this entails," added Mr. Steiner.
In the G20 Leaders Declaration, governments agreed that the success of the Montreal Protocol – which has overseen a 98 per cent of all global consumption of controlled ozone-depleting substances, and contributed to tens of millions of cases of avoided skin cancer and cataracts – should be harnessed to phase out HFCs.
"Climate change will continue to have a significant impact on the world economy, and cost will be higher to the extent we delay additional actions," reads the G20 statement.
"We reiterate our commitment to fight climate change and welcome the outcome of the 18th Conference of the Parties to the UN Climate Change Conference. We also support complementary initiatives, through multilateral approaches that include using the expertise and the institutions of the Montreal Protocol to phase down the production and consumption of hydrofluorocarbons (HFCs), based on the examination of economically viable and technically feasible alternatives."
The statement was signed by the following countries:  Argentina, Australia, Brazil, Canada, China, France, Germany, India, Indonesia, Italy, Japan, Republic of Korea, Mexico, Russia, Saudi Arabia, South Africa, Turkey, the United Kingdom, the United States, and the European Union, as well as Ethiopia, Spain, Senegal, Brunei, Kazakhstan and Singapore.
China and USA Renew Bilateral Efforts
In a separate agreement at the G20 Summit, President Barack Obama of the USA and President Xi Jinping of China agreed to establish a contact group on HFCs under the Montreal Protocol to consider issues related to cost-effectiveness, financial and technology support, safety, and environmental benefits.
The decision follows an announcement by both countries in June 2013 on closer co-operation to phase down the production and consumption of HFCs, while continuing to include HFCs within the scope of UNFCCC and its Kyoto Protocol provisions for accounting and reporting of greenhouse gas emissions.