Germany, Switzerland and the UK are over represented on the CPLI relative to the geographic composition of the Global 500. Although European companies are more likely to outperform in comparison to their peers in the USA, the number of North American companies achieving a position on the CPLI has more than doubled since 2012. India, Norway, South Africa, South Korea and Sweden are new to the index.
The CDP Global 500 Climate Change Report 2013 is available to download free, it launches today at CDP's annual Global Climate Forum. The public disclosures of climate change information from Global 500 companies taking part in CDP this year are also available on the CDP website. Over 4,500 businesses in markets around the world have disclosed through CDP this year. Their data will be disseminated to investors via various channels, such as Bloomberg terminals, where it is downloaded an average of 1 million times every six weeks.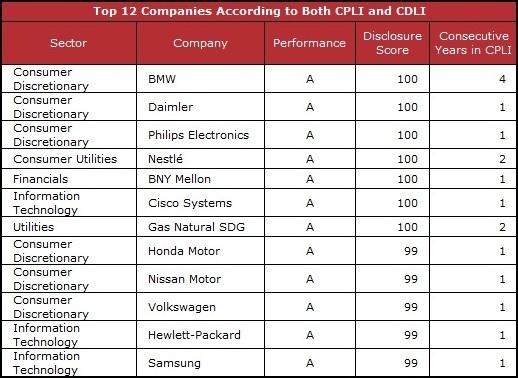 Check the following link to read/download the Full Report:
https://www.cdproject.net/CDPResults/CDP-Global-500-Climate-Change-Report-2013.pdf
Source: CDP.
Notes:
[1] The 50 highest emitting companies are listed on the inside back cover of the CDP Global 500 Climate Change Report 2013.
[2] The five highest emitting companies of each sector are included in each sector snapshots contained in the CDP Global 500 Climate Change Report 2013.
About CDP
CDP is an international, not-for-profit organization providing the only global system for companies and cities to measure, disclose, manage and share vital environmental information. CDP works with market forces, including 722 institutional investors with assets of US $ 87 trillion, to motivate companies to disclose their impacts on the environment and natural resources and take action to reduce them. CDP now holds the largest collection globally of primary climate change, water and forest risk commodities information and puts these insights at the heart of strategic business, investment and policy decisions.
About PwC
PwC's global sustainability and climate change team of over 700 professionals is led by a UK team of over 100. They work with public and private sector clients, NGOs, private entrepreneurs, policy makers and think tanks delivering the complete range of advisory and delivery services related to sustainability and climate change, risk analysis and performance measurement tools, climate modeling, measurement and reporting. The firm won UK Consultancy of the Year in 2011 & 2012 in the BusinessGreen Leaders Awards recognizing the leaders and shapers of the emerging low carbon economy.