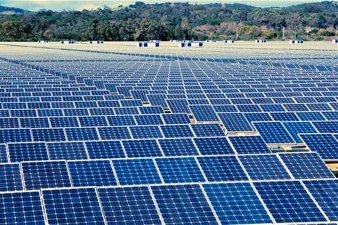 A new real-world, near-term solution action plan commissioned by the Republic of Nauru, Chair of the Alliance of Small Island States (AOSIS) and written by 30 leading climate and energy experts from around the world was formally released at the United Nations Climate Summit on September 23.
United Nations Secretary General Ban Ki-moon had asked world leaders to come to the Climate Summit with bold initiatives to lower the greenhouse gas emissions responsible for the climate crisis. In response, this paper defines a suite of existing policies and technologies that the international community can use to immediately speed and scale the transformation to a low carbon economy and avert the worst impacts of climate change.
"We have the technology and know-how to solve this climate crisis and save the people and families from the most threatened communities across our planet. What is missing is the courage to make the change – and that has to come from world leaders," said Nauru's Ambassador, Marlene Moses, Chair of AOSIS. "Our hope is this paper will help these leaders set the appropriate priorities to make rapid emissions reductions before time runs out for us."
"We want to make it clear that the international community can answer Secretary General Ban Ki-moon's challenge and act boldly now to reduce greenhouse gas emissions," said Dr. Bob Watson, Strategic Director of the Tyndall Centre at the University of East Anglia and former Chair of the Intergovernmental Panel on Climate Change (IPCC), who served as chair of the report. "Success is essential for current and future generations, but is only achievable if we tackle the technological, institutional, financial and political inertia now. Our current pathway will not achieve the deep emissions cuts we need, but is more closely aligned with temperature increases closer to 3oC or much greater. Time is running out."
The paper builds on the Intergovernmental Panel on Climate Change, the Global Energy Assessment, and information from leading scientific and energy experts to identify the most promising and readily available steps to rapidly lower emissions in the near term.
Some of the main findings include:
There is major cost-effective potential to rapidly increase efficiency in the transportation, building, industrial, agricultural, waste management and water sectors with existing commercially available technologies and use of best practice, given appropriate policy support. For example, energy efficiency building retrofits can typically achieve 70-90% reduction in energy consumption for heating and cooling.
Wind and solar PV will result in about 1.4 billion tonnes of avoided CO2 emissions per year by 2020, but with great policy support could cut another billion tonnes of emissions globally.
Where governments have made climate a priority, smart policies have facilitated the transformative scaling up of renewable energy and end-use efficiency. On a sunny day, Germany can generate more than half its electricity from solar power; one-third of new builds in Vienna use nearly zero energy for heating and cooling; in 2013, Denmark and Spain produced 33% and 21%, respectively of their electricity from wind.
An effective price on carbon to reflect the health and environmental costs of emissions for current and future generations would send the right price signal to drive investment in clean technology.
The least efficient coal plants should be retired and no new coal plants without Carbon Capture and Storage (CCS) should be built.
A systems-wide transformation towards a low carbon economy requires policies to catalyze institutional reform and behavioural change as a complement to low carbon technologies.
Small Island Developing States contribute only a small percentage of the emissions driving the climate crisis, but many have already pledged to make dramatic reductions and to even go carbon-neutral in the next few years.
"This report makes it clear to global leaders that further delay in tackling the biggest crisis of our generation is unacceptable. We are morally responsible for the predictable outcomes of our decisions. Failing to act on climate change would lead to more needless suffering, more deaths and potentially the loss of entire nations like ours," said Ambassador Moses.
Click here to read/download the Full Report – "Tackling the Challenge of Climate Change: A Near-Term Actionable Mitigation Agenda".
Source: AOSIS.
About AOSIS
The Alliance of Small Island States (AOSIS) is a coalition of small island and low-lying coastal countries that share similar development challenges and concerns about the environment, especially their vulnerability to the adverse effects of global climate change. It functions primarily as an ad-hoc lobby and negotiating voice for Small Island Developing States (SIDS) within the United Nations system.
AOSIS has a membership of 44 States and observers, drawn from all oceans and regions of the world: Africa, Caribbean, Indian Ocean, Mediterranean, Pacific and South China Sea. Thirty-seven are members of the United Nations, close to 28 percent of developing countries, and 20 percent of the UN's total membership. Together, SIDS communities constitute some five percent of the global population.