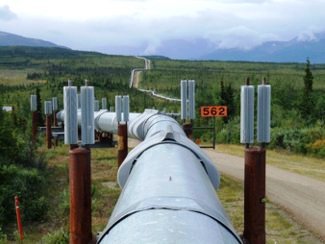 Approval of the Keystone XL Pipeline (KXL) would likely increase oil sands extraction, according to 26 oil sands professionals and researchers surveyed by the non-profit organization Near Zero. The results are detailed in the report, "Keystone XL: The Climate Impact", and includes both supporters and opponents of the pipeline.
This additional extraction of oil sands could lead to significantly higher greenhouse gas emissions, with the exact amount depending largely on how markets respond.
"This report examines three main scenarios discussed by participants in our survey: one in which oil sands from Keystone XL adds to total world oil supply, one in which it replaces heavy crudes, and one in which oil sands are transported by rail instead," said report co-author Christine Shearer, a researcher at the University of California Irvine, who is affiliated with Near Zero. "In all of these scenarios, Keystone XL would likely raise greenhouse gas emissions."
KXL has attracted national attention over its climate effects, with President Barack Obama stating in 2013 that he will approve the pipeline "only if this project doesn't significantly exacerbate the problem of carbon pollution." A decision by the State Department is expected after the November 2014 election.
To help assess the effect of KXL on the climate, Near Zero surveyed a variety of oil sands experts about the impact of KXL on future oil sands production. The survey was completed by 26 people: 13 supported KXL and 13 did not.
Most participants (nearly 70%) said approval of KXL would increase oil sands production over the next 10 to 20 years. Many KXL supporters thought the difference would be small, while most KXL opponents said approval would represent a favourable market signal for oil sands, increasing overall global production. The average annual increase was 220,000 barrels per day by 2015, and over 900,000 barrels per day by 2035 – the latter a 40% increase above current oil sands production.
Near Zero calculated the greenhouse gas emissions that could result from this additional oil sands production, depending on how oil markets respond. The increase in annual emissions by 2035 would be anywhere from 1 to 40 million metric tons carbon dioxide (CO2), if the oil sands replaced heavy crudes. If the oil sands added to net world oil supply, they would increase emissions 183 million metric tons of CO2 per year – about 3% of the United States' current greenhouse gas emissions.
The only scenario in which KXL would not lead to an increase in CO2 emissions is if the same amount of oil sands were produced regardless and transported by rail, raising emissions by less than 1.2 million metric tons of CO2 per year for 830,000 barrels per day of oil, the full capacity of the pipeline. Yet most survey participants thought less oil sands would be produced in the absence of KXL, particularly over the next 10 to 20 years.
"The goal of this survey was to represent the view of the experts and provide the public and policymakers with reliable information," said report co-author Steve Davis, an assistant professor at the University of California Irvine. "Although we avoid saying what specific policies should be adopted, it is important to recognize that even half the surveyed supporters of Keystone XL think building the pipeline would increase extraction of oil sands."
Check the following link to read/download the Full Report:
http://www.nearzero.org/reports/KXL
Source: Near Zero.