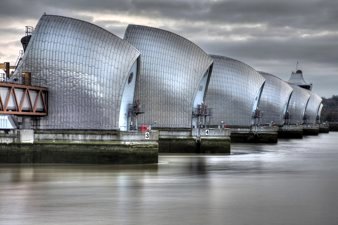 San Diego, California – Weather-related disasters worldwide have helped galvanize attention on the need to prepare for the impact of changing weather patterns on our communities, businesses and natural resources. This presents significant opportunities for companies positioned to help clients prepare for, adapt to, and even gain competitive advantage from the consequences of climate change.
In its newly updated EBI Report 4800, "Emerging Business Opportunities in the Climate Change Adaptation Industry", Environmental Business International Inc. (EBI) talks to the first generation of service providers in this emerging business segment, looking at how they are positioning their companies to win contracts and at the challenges involved in pioneering adaptation work.
Today, the climate change adaptation market remains primarily in the investigational phase amounting to specialty service revenues of $700 million in the United States in 2013; EBI forecasts a billion-dollar U.S. industry by 2016 derived mostly from analysis, assessments, mapping and planning projects led by consulting and engineering (C&E) firms, specialist climate change consultancies, and professional service firms. The global market is on the order of $2 billion.
However, once adaptation moves into the design, engineering and construction phases, the market will see higher growth driven by major projects like desalination plants, levees, sea walls, port reinforcements, etc. Long term, climate change adaptation projects will represent tens of billions of dollars annually, including design and construction, EBI forecasts.
First-Tier Private Sector Clients Engage With Adaptation
EBI Report 4800 incorporates EBI's recently completed third round of research on the business of climate change adaptation, one of 9 segments that comprise EBI's definition of the Climate Change Industry. When EBI first benchmarked the climate change adaptation segment in 2008 with a detailed survey and interviews, it identified a relatively small number of funded projects in a variety of settings including government agencies, non-profits and universities, and a few well placed C&E firms.
Today, EBI finds a market continuing to gain in strength and expand in scope, with early movers in the private sector now also engaging and making initial investments in adaptation to protect assets and services.
"While public infrastructure managers – especially in water, wastewater and transportation – have been the most active in assessing and planning for climate change, today mining, oil and gas, electric power, food and beverage, apparel and other consumer goods firms with far-flung supply chains are taking climate change risks more seriously and integrating climate change into their long-range planning," said EBI Senior Editor Jim Hight.
Leaders in Climate Change Adaptation Services
The updated report looks at the client sectors letting the first tier of adaptation contracts, in addition to presenting in-depth interviews with the companies that are providing them with adaptation services. Leaders in climate adaptation services include assurance firms, led in CCBJ's estimation by PwC and Deloitte, and specialized climate consultancies like Acclimatise, Atmospheric and Environmental Research, Stratus and Climate Risk.
EBI believes the environmental C&E and construction companies (tracked by EBI since 1988) are uniquely positioned to serve the adaptation market. For most environmental C&E firms, climate risk assessment and adaptation doesn't stand alone as a separate business division but is incorporated into business lines, usually around water, wastewater, transportation, government program management, energy transportation or development. For some, the specialty may be developed in areas like protection of assets such as ports or recreation facilities.
"While not a full-fledged business division for most consultancies, climate risk expertise has become an important qualification for winning project engagements in other segments," noted Hight. "From boutique firms to large companies carving out special departments to those integrating climate change considerations across their business offerings, these early service providers offer perspective on what adaptation projects look like, the kinds of conversations they are having with clients, how they view the adaptation opportunity, and how they are preparing and marketing their services."
According to EBI, ICF International probably has the largest adaptation practice among the C&E firms, with about 25 full-time professionals working exclusively in climate risk and adaptation. The 2014 edition of Report 4800 profiles many of the leading firms from all three service provider categories. It also estimates the size and growth trajectory of the climate change adaptation market, providing revenue and growth data.