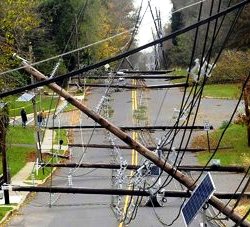 S&P 500 companies are seeing climate change-related risks increase in urgency, likelihood and frequency, with many describing significant impacts already affecting their business operations, according to a new report from CDP, which collects environmental performance information on behalf of investors.
Reported risks affect companies in all economic sectors and include damage to facilities, reduced product demand, lost productivity and necessitated write-offs, often with price tags reaching millions of dollars.
Forty five percent of the risks S&P 500 companies face from extreme weather and climate changes are current, or expected to fall within the next 1-5 years, up from 26% just three years ago. The S&P 500 companies also indicate that 50% of these risks range from "more likely than not" to "virtually certain", up from 34% three years ago.
"Dealing with climate change is now a cost of doing business," says Tom Carnac, President of CDP in North America. "Making investments in climate change-related resilience planning both in their own operations and in the supply chain has become crucial for all corporations to manage this increasing risk."
Around 60 companies describe the current and potential future risks and their associated costs in the research, which highlights excerpts from the companies' disclosures to their investors between 2011 and 2013.
Examples include:
Gap, Inc. reporting on experiencing higher material costs for cotton due to changes in precipitation and drought in China;
Dr. Pepper Snapple Group, Inc. discussing the potential of weather, climate changes and availability of water putting $ 2.5 billion of their cost of sales at risk;
Sempra Energy disclosed costs exceeding its $ 1.1 billion of liability insurance coverage due to wildfires in San Diego;
Union Pacific reported an 11% decline in corn shipments affecting its freight revenue as a result of droughts in 2012;
HP describes a decline in revenue of 7% following the 2011 floods in Thailand; and
Consolidated Edison, Inc. discloses costs related to Superstorm Sandy at over $ 431 million.
Check the following link to read/download the Full Report:
https://www.cdp.net/CDPResults/review-2011-2013-USA-disclosures.pdf
Source: CDP.
About CDP
CDP is an international, not-for-profit organization providing the only global system for companies and cities to measure, disclose, manage and share vital environmental information. CDP works with market forces, including 722 institutional investors with assets of US $ 87 trillion, to motivate companies to disclose their impacts on the environment and natural resources and take action to reduce them. CDP now holds the largest collection globally of primary climate change, water and forest risk commodities information and puts these insights at the heart of strategic business, investment and policy decisions. For more information, visit www.cdproject.net.