Vancouver, Canada – WWF's Earth Hour City Challenge (EHCC) has awarded Cape Town, South Africa, the title 'Global Earth Hour Capital 2014'. The city is recognized for its ambition and pioneering actions to combat climate change in its effort to bolster quality of life for its citizens. Cape Town succeeds last year's winner Vancouver, Canada.
Cape Town stood out as a role model for the global South with a showcase of green programs and actions other cities can replicate. Cape Town also demonstrates how city strategies to reduce carbon development and battle climate change can also help tackle other development priorities such as food, energy and water security.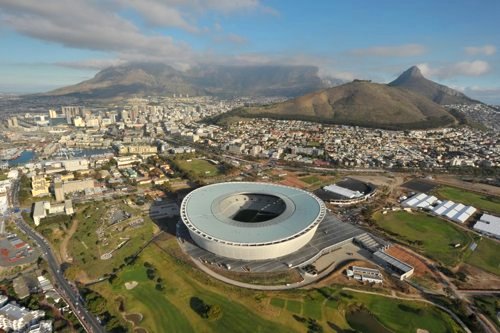 "Taking the baton from Vancouver as WWF's Global Earth Hour Capital 2014 is an exceptional honour for Cape Town and is international endorsement of our comprehensive efforts around sustainability," says Patricia de Lille, Executive Mayor of Cape Town. "We are overjoyed that Cape Town has been selected from among so many great cities striving to create attractive, smart cities while tackling a multitude of urgent environmental and social challenges. We know we have a lot more work to do and the Earth Hour City Challenge is a great way for our city and our community to be inspired to continue moving forward."
The city has taken bold steps towards transitioning its energy system away from fossil fuels and towards renewable energy with its roll out of a solar water heating program. Community engagement on sustainability issues and strong progress with energy efficiency, especially a large-scale retrofitting program for its buildings stock, were other pioneering actions highlighted.
"Cape Town serves as an excellent model of how a city in the global South can take urgent and concrete action on climate change, despite its country's dependence on fossil fuels," says David Miller, CEO and President of WWF Canada, host of the award ceremony. "Our international leaders, who have the responsibility to conclude an international climate agreement in Paris next year, must now provide the ambitious framework to help all cities and nations bring about climate action at the required scale and speed," adds Miller.
Over 160 cities from 14 countries joined the competition, more than double the participation from last year. This year, the jury paid particular attention to each city's level of ambition and innovation for low carbon development in relation to the local context.
The EHCC jury of experts selected Cape Town after a shortlist and final review of 14 city finalists. Finalists included Belo Horizonte, Brazil; Brussels Capital Region, Belgium; Chicago, United States; Coimbatore, India; Copenhagen, Denmark; Edmonton, Canada; Lappeenranta, Finland; Mexico City, Mexico; Monteria, Colombia; Muangklang, Thailand; Semarang, Indonesia; Seoul, South Korea; and Stockholm, Sweden.
"The increased number of city participants in the City Challenge reflects a strong demand by local communities to be recognised for their bold climate actions – and to step up action to reduce dependency on fossil fuels to secure the well-being of their citizens," says Carina Borgström-Hansson, WWF's Earth Hour City Challenge Project Lead. "The EHCC initiative has once more shown how cities from across the world are willing to lead the transition to a renewable energy-based, sustainable future, and that such a transition can also help them meet other development challenges."
The City Challenge also invited people around the globe to voice their support for renewable energy and for 33 green city finalists through the social media platform 'We Love Cities'.
The online voting campaign collected more than 300,000 votes from people who truly love their cities and want to see them become more sustainable. Tied for first place were Medellin, Colombia, and Khunhan, Thailand. Both cities successfully engaged their citizens in contributing votes and online feedback, including hundreds of suggestions on how their lovable cities can be even more sustainable.
Following the award ceremony, finalist cities joined together in committing to WWF's 'Seize Your Power' pledge calling for the redirection of investments from fossil fuels toward renewable energy sources.
WWF worked closely with ICLEI – Local Governments for Sustainability in mobilizing cities to join the challenge. ICLEI provided the use of its carbonn Cities Climate Registry (cCCR) as the reporting platform for the initiative. The Swedish Postcode Lottery is the main financial partner.
For more information on Earth Hour, visit www.earthhour.org.
Source: WWF.