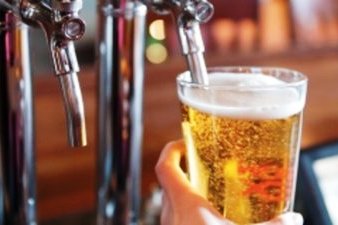 The UK brewing sector has met its 2020 carbon emissions target eight years early and is on track to achieve its 2020 target for improved water efficiency. The impressive figures have been revealed in Brewing Green 2013, a new report published by the British Beer & Pub Association (BBPA). The sector is also making significant progress in reducing excess packaging and waste.
During 2012, carbon emissions fell by four per cent; a reduction of 67 per cent since 1990 and an energy efficiency improvement of 36 per cent. Although declining volumes have been a factor, the efforts made by companies to reduce energy use and improve efficiencies have been crucial to achieving this reduction in emissions. Whilst this is an achievement to be proud of, the sector will not be complacent and targets will be reviewed during 2014 to set further challenging objectives for 2020.
As part of the drive to improve energy efficiency through participation in the Government's Climate Change Agreements, the brewing sector undertook a review of all the technologies that were in place across the UK's breweries. It examined what could be implemented by 2020 and set the basis of the sector's target. A final target of a 13.6 per cent improvement in energy efficiency compared to 2008 was agreed. This exercise identified core areas for action to allow companies to make informed investments in order to create further efficiency savings.
There has been continued improvement in water efficiency within the sector, with UK brewers making a water saving efficiency gain of 4 per cent between 2011 and 2012. The UK's pint-per-pint water use is ahead of our European counterparts at 4.2 hl/hl and making good headway towards 2020 targets.
UK companies have been driving these changes. Since the start of 2011, over six million hectolitres (240 Olympic swimming pools!) of water have been saved at AB Inbev's Magor brewery using water saving technology, including reverse osmosis. Over at Molson Coors' Tadcaster brewery, water saving drought response measures and further investment in additional reverse osmosis equipment has been made to save water and provide further security of water supply in the future.
Amongst other measures, the light-weighting of bottles and cans has helped companies make significant progress on reducing packaging. In addition, the industry has, as a whole, reduced the amount of waste disposed of by 83 per cent since 2006, according to recent Environment Agency data.
Specific company initiatives include Carlsberg's 'Every Can Counts' campaign – which aims to boost the recycling rates of drinks cans used outside the home. Members of the Carlsberg team have also been sent to work as Recycling Warriors at both the Leeds Festival and Latitude, this summer.
These figures clearly demonstrate the industry's continuing commitment to sustainability. The brewing industry continues to remain conscious of the important role it plays in society and will continue to strive to make a positive contribution.
BBPA Chief Executive, Brigid Simmonds, comments, "The brewing industry has been working hard to minimise its environmental impact for decades. These latest figures demonstrate that the sector is taking its environmental commitment seriously and delivering results."
"The latest fall in carbon emissions, the increasingly efficient use of water and the reduction in waste and packaging are all achievements to be proud of. Companies are taking the initiative and taking proactive business decisions to ensure that their brewing processes are as green as possible."
"We recognise that we can do more to influence energy and water use in our supply chain – and we are also committed to reducing waste, particularly in packaging."
"The brewing industry is being bold, open and progressive about its commitments. When it comes to an industry that is dedicated to improving our environmental performance, we want to ensure that it's a case of 'beer is best.'"
The British Beer & Pub Association is the UK's leading organisation representing the brewing and pub sector. Its members account for 96 per cent of the beer brewed in the UK and own around half of Britain's 49,500 pubs.
Brewing Green was first published in 2010 to outline the brewing industry's commitment to improving environmental performance in a number of areas. This year's update follows the 2011 update and outlines further significant progress.
Commitments:
Carbon – to reduce carbon emissions by 67% by 2020 compared to 1990
Water Efficiency – to achieve an industry average of less than four litres of water for each litre of beer produced, a reduction of 42% by 2020 compared to 1990
Packaging – to reduce the environmental impact of packaging
Waste – to reduce the amount of waste produced each year, working towards zero waste to landfill
Supply Chain and Environmental Management – to ensure that best practice is implemented through management systems and work with the supply chain
Pubs – to support work towards a more sustainable pub sector

Check the following link to read/download the Full Report – "Brewing Green 2013":
http://www.beerandpub.com/brewinggreen2013
Source: BBPA.