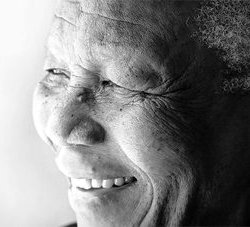 Nelson Mandela, widely regarded as the father of the struggle for equality in South Africa and across the continent, died on 5 December 2013 at the age of 95.
A visionary leader, Mandela became South Africa's first black president after spending 27 years in prison on charges of crimes against the country's former apartheid government. After his release in 1990, Mandela continued his activism, speaking widely against poverty, inequality and the indignity of racism.
"Never, never and never again shall it be that this beautiful land will again experience the oppression of one by another and suffer the indignity of being the skunk of the world," he famously said at his presidential inauguration in 1994.
He continued, "To my compatriots, I have no hesitation in saying that each one of us is as intimately attached to the soil of this beautiful country as are the famous jacaranda trees of Pretoria and the mimosa trees of the bushveld."
"Each time one of us touches the soil of this land, we feel a sense of personal renewal. The national mood changes as the seasons change. We are moved by a sense of joy and exhilaration when the grass turns green and the flowers bloom."
Calling for "work, bread, water and salt for all" – in effect, the equitable distribution of resources in his homeland – he demonstrated the seeds what would later grow into a staunch commitment to the cause of sustainable development.
On 28 August 2002, for example, Mandela delivered the keynote address at the event inaugurating South Africa's WaterDome, in parallel with the landmark World Summit on Sustainable Development in Johannesburg. During the event, stakeholders from public and private organizations in the water sector launched and exhibited water-related activities, policies and new technologies.
"That our government has made significant progress in bringing potable water nearer to so many more people than was previously the case, I rate amongst the most important achievements of democracy in our country," said Mandela, in the speech which would become known as "No Water, No Future".
Mandela was also deeply connected to the earth on a personal level. He was an avid gardener, including throughout his long imprisonment.
While at Pollsmoor Prison, between 1982 and 1988, he argued for the right to plant a garden on the prison's rooftop, and was finally permitted to plant vegetables – "onions, eggplant, cabbage, cauliflower, beans, spinach, carrots, cucumbers, broccoli, beetroot, lettuce, tomatoes, peppers, strawberries, and much more" – in 44-gallon drums which had been cut in half, lugged to the rooftop and filled with soil.
On this victory, he later wrote in his autobiography, A Long Walk to Freedom, "To plant a seed, watch it grow, to tend it and then harvest it, offered a simple but enduring satisfaction. The sense of being the custodian of this small patch of earth offered a small taste of freedom."
On his 89th birthday, Mandela brought together a group of renowned statesmen, human rights advocates and others to form an organization known as "The Elders", which have since tackled, among other issues, environmental degradation and climate change.
Source: UNEP.