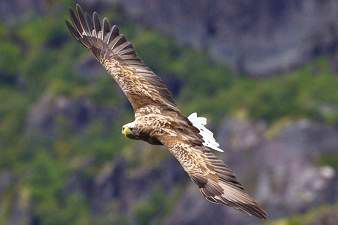 The Eurasian beaver, European bison and White-tailed eagle have all been highlighted as species that have made a remarkable comeback in Europe over the past 50 years, according to a first-ever in-depth report released on September 26.
Scientists from the Zoological Society of London (ZSL), BirdLife International and the European Bird Census Council (EBCC) worked with experts from across Europe to gather relevant data about the distribution and abundance of selected species. The resulting report, "Wildlife Comeback in Europe", describes how, why and where 37 mammal and bird species have recovered over the past 50 years, and in some cases have reclaimed their former European territory, providing important lessons for the conservation of these and other species.
At an event at the London Zoo on September 26, the study was handed over to Gerben-Jan Gerbrandy, Member of the European Parliament and Rapporteur for Biodiversity. He stated, "This report shows first of all the amazing resilience of nature. Furthermore, it emphasizes the importance of EU policy: the Birds and Habitats Directives, the Natura 2000 network of protected areas and the Water Framework Directive are all explicitly credited for supporting this impressive return of wildlife. The rewilding of Europe exceeds nature protection, because these iconic species create unique opportunities for rural development." He added, "I firmly believe that smart investments in nature create huge economic opportunities and I will continue to work vigorously in Brussels to turn the rewilding of Europe into reality."
Ariel Brunner, Head of EU Policy at BirdLife Europe, spoke at the event, "The case studies of wildlife comeback in this report supports decades of conservation efforts in Europe. Sound legislation, such as the Birds and Habitats Directives have led to better hunting regulation, species and site protection and focusing of conservation investments. They show that with sufficient resources and appropriate efforts, species can be brought back, even from the brink of extinction."
Professor Jonathan Baillie, ZSL's Director of Conservation said, "It is essential that we both celebrate and learn from major successes in conservation. This study helps us understand the interventions and conditions necessary for a broad range of species to experience similar recoveries."
"Wildlife will bounce back if we allow it to – this report shows that," says Frans Schepers, Managing Director of Rewilding Europe who initiated and commissioned this study. "With continued and strong legal protection, active boosting of existing wildlife populations and reintroductions to bring back lost species, combined with an increasing tolerance towards wildlife, more species will surely follow."
Christina Ieronymidou, European Research Assistant, BirdLife International, stated, "Conservation works and species can recover if you take the right actions. In the Wildlife Comeback Study, we analysed 19 different European bird species and saw on average a 5% increase per year. Species growth and decline depend on the conservation measures we take so our efforts need to persist."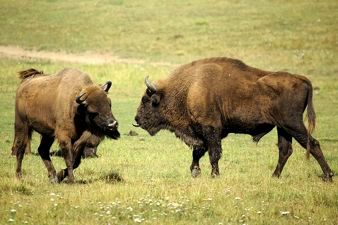 The White-tailed eagle, one of the largest birds of prey in the world, has made an impressive recovery following dramatic declines and extinctions in many countries between 1800 and 1970. Thanks to legal protection, the European population grew from fewer than 2,500 pairs in 1970 to 9,600 pairs in 2010, and the species has recently re-colonised parts of its former range in northern and central Europe.
The European bison, the largest herbivore in Europe, went extinct in the wild in the early 20th century due to severe hunting pressure and habitat loss. After a large-scale breeding and re-introduction programme based on individuals remaining in captivity, wild populations have been re-established in areas of central and eastern Europe, with a strong-hold in Poland and Belarus. The total population is now almost 3,000 individuals.
The wildlife comeback is not limited to the species presented in this study; there are many more that are showing similar patterns of recovery. Despite the return of this impressive number of European birds and mammals, biodiversity is still being lost.