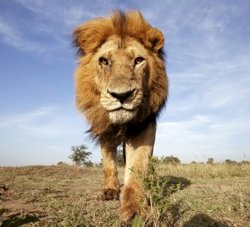 Gland, Switzerland – Global wildlife populations have declined by more than half in just 40 years as measured in WWF's Living Planet Report 2014. Wildlife's continued decline highlights the need for sustainable solutions to heal the planet, according to the report released on September 29.
The Living Planet Report 2014 also shows Ecological Footprint – a measure of humanity's demands on nature – continuing its upward climb. Taken together, biodiversity loss and unsustainable ecological footprint threaten natural systems and human wellbeing, but can also point us toward actions to reverse current trends.
"Biodiversity is a crucial part of the systems that sustain life on Earth – and the barometer of what we are doing to this planet, our only home. We urgently need bold global action in all sectors of society to build a more sustainable future," said WWF International Director General Marco Lambertini.
The Living Planet Report 2014 is the tenth edition of WWF's biennial flagship publication. With the theme 'Species and Spaces, People and Places', the report tracks over 10,000 vertebrate species populations from 1970 to 2010 through the Living Planet Index – a database maintained by the Zoological Society of London. The report's measure of humanity's Ecological Footprint is provided by the Global Footprint Network.
This year's Living Planet Index features updated methodology that more accurately tracks global biodiversity and provides a clearer picture of the health of our natural environment. While the findings reveal that the state of the world's species is worse than in previous reports, the results also put finer focus on available solutions.
"The findings of this year's Living Planet Report make it clearer than ever that there is no room for complacency. It is essential that we seize the opportunity – while we still can – to develop sustainably and create a future where people can live and prosper in harmony with nature," said Lambertini.
Critical Wildlife Declines
According to the report, populations of fish, birds, mammals, amphibians and reptiles have declined by 52 per cent since 1970. Freshwater species have suffered a 76 per cent decline, an average loss almost double that of land and marine species. The majority of these losses are coming from tropical regions with Latin America enduring the most dramatic drop.
The report shows that the biggest recorded threat to biodiversity comes from the combined impacts of habitat loss and degradation. Fishing and hunting are also significant threats. Climate change is becoming increasingly worrisome, with research cited in the report finding that climate change is already responsible for the possible extinction of species.
"The scale of biodiversity loss and damage to the very ecosystems that are essential to our existence is alarming," said Ken Norris, Director of Science at the Zoological Society of London. "This damage is not inevitable but a consequence of the way we choose to live. Although the report shows the situation is critical, there is still hope. Protecting nature needs focused conservation action, political will and support from industry."
While biodiversity loss around the world is at critical levels, the Living Planet Report 2014 highlights how effectively managed protected areas can support wildlife. In one example, Nepal is noted for increasing its tiger population in recent years. Overall, populations in land-based protected areas suffer less than half the rate of decline of those in unprotected areas.

Ecological Footprint Increases
According to the report, humanity's demand on the planet is more than 50 per cent larger than what nature can renew. It would take 1.5 Earths to produce the resources necessary to support our current Ecological Footprint. This global ecological overshoot means, for example, that we are cutting timber more quickly than trees regrow, pumping freshwater faster than groundwater restocks, and releasing CO2 faster than nature can sequester it.
"Ecological overshoot is the defining challenge of the 21st century," said Mathis Wackernagel, President and Co-founder of Global Footprint Network. "Nearly three-quarters of the world's population lives in countries struggling with both ecological deficits and low incomes. Resource restraints demand that we focus on how to improve human welfare by a means other than sheer growth."