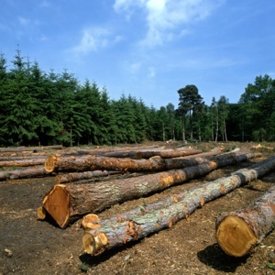 Washington – New analysis and maps released on September 4 reveal the alarming speed at which the world's largest expanses of forest wilderness are being degraded. More than 104 million hectares – an area three times the size of Germany – of the world's remaining Intact Forest Landscapes were degraded from 2000 to 2013.
The Greenpeace GIS Laboratory, University of Maryland and Transparent World, in collaboration with the World Resources Institute (WRI) and WWF-Russia, used satellite technology and advanced techniques to conduct a global analysis to determine the location and extent of the world's last remaining large undisturbed forests, called Intact Forest Landscapes (IFLs). These are areas large enough to retain native biodiversity and contain no signs of forest fragmentation by logging and infrastructure such as roads, mining and oil or gas development. Intact Forest Landscapes also contain non-productive areas with low tree cover and non-forested areas.
"Governments must take urgent action to stop IFL degradation by creating more protected areas, strengthening the rights of forest communities and other measures that protect intact forests for their economic, social and conservation values," said Dr. Christoph Thies, Senior Forest campaigner for Greenpeace International. "The UN, donor countries and development banks also need to support developing countries to protect their IFLs. Finally, voluntary private sector initiatives such as the Forest Stewardship Council (FSC) and various roundtables on palm oil, soy and beef, can ensure that their standards for timber and agricultural commodities avoid IFL degradation."
The new maps are accessible and can be analyzed using tools on the cutting-edge Global Forest Watch platform, a dynamic, online forest monitoring and alert system that empowers people to better manage forests.
"Thanks to ever more powerful cloud computing, satellite imagery, and the efforts of the Global Forest Watch partners, we can clearly see that business-as-usual will lead to destruction of most remaining intact forests this century," said Dr. Nigel Sizer, Global Director of the Forest Program at WRI, and head of Global Forest Watch. "There is an urgent need for governments to heed the calls of their citizens and to respect the rights of forest-dependent peoples by properly protecting remaining intact forests. Global Forest Watch will continue to draw attention to both forest destruction and success stories to protect vulnerable land."
The analysis includes several key findings:
Since 2000, 8.1% of Intact Forests Landscapes have been degraded.
Almost 95% of the world's remaining Intact Forest Landscapes are in the tropical and boreal regions.
The largest areas of IFL degradation have been found in the Northern boreal forest belt of Canada, Russia and Alaska (47%) and tropical forest regions such as the Amazon (25%) and Congo (9%) basins.
Just three countries – Canada, Russia and Brazil – together contain 65% of the world's remaining Intact Forest Landscapes. These countries also accounted for over half of all IFL degradation with road building, often linked to logging and extractive industries, being a key driver. Other drivers vary significantly in different regions, from human-caused fires in Russia to agricultural conversion in Brazil.
The areas covered in the analysis include some of the most precious landscapes on Earth, such as the vast northern boreal forests, home to caribou migrations and enormous quantities of stored carbon, as well as the biodiverse rainforests of Central Borneo, the Congo and the Western and Northern Amazon. These last forest frontiers play a critical role in sustaining rich biodiversity, maintaining climate and weather stability as well as air and water quality, and supporting the livelihoods of forest-dependent communities.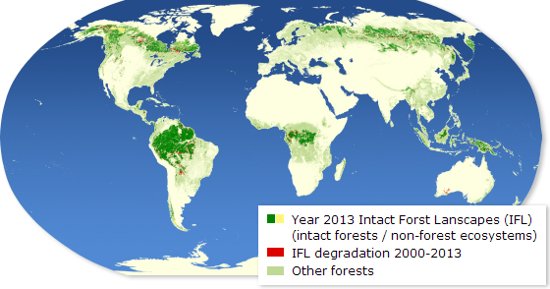 However, according to the new data, human activity – such as logging and road building – is fragmenting these pristine landscapes. This not only leads to increased biodiversity loss, but also intensifies climate change through greenhouse gas emissions and loss of valuable forest carbon stores and sinks.