Washington, D.C. – A comprehensive new analysis released on September 10 says that nearly half (49%) of all recent tropical deforestation is the result of illegal clearing for commercial agriculture. The study also finds that the majority of this illegal destruction was driven by overseas demand for agricultural commodities including palm oil, beef, soy, and wood products.
In addition to devastating impacts on forest-dependent people and biodiversity, the illegal conversion of tropical forests for commercial agriculture is estimated to produce 1.47 gigatonnes of carbon each year – equivalent to 25% of the EU's annual fossil fuel-based emissions.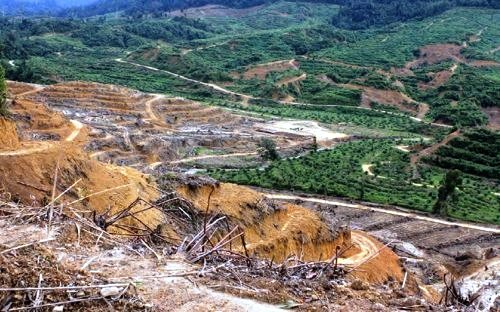 "We've known that the production of agricultural commodities is a principal driving force behind deforestation, but this is the first report to show the outsize role that illegal activities play in the production of hundreds of food and household products consumed worldwide," said Michael Jenkins, President and CEO of Forest Trends, a Washington-based NGO that published the report.
"Increased agricultural production will be necessary for  and to meet the demand of the emerging global middle class. However, the world must also wake up to the scale of how much of this agricultural production is taking place on land that has been illegally cleared. Urgent action is needed to help countries where these agricultural products are being grown, both for governments to enforce their own laws and regulations, and for businesses aiming to produce commodities legally and sustainably."
According to the study, "Consumer Goods and Deforestation: An Analysis of the Extent and Nature of Illegality in Forest Conversion for Agriculture", 90% of the deforestation in Brazil from 2000 to 2012 was illegal, primarily due to the failure to conserve a percentage of natural forests in large-scale cattle and soy plantations, as required by Brazilian law. (Much of this occurred prior to 2004, when the Brazilian government took steps to successfully reduce deforestation.) And in the forests of Indonesia, 80% of deforestation was illegal – mostly for large-scale plantations producing palm oil and timber, 75% of which is exported. While other countries also experience high levels of illegal deforestation, Brazil and Indonesia produce the highest level of agricultural commodities destined for global markets, many of which wind up in cosmetics or household goods (palm oil), animal feed (soy), and packaging (wood products).
Illegal deforestation is also rampant in most other countries across Asia, Latin America and Africa, losing large areas of tropical forest. Examples include the following:
In Papua New Guinea, millions of hectares of forest have been illegally licensed for deforestation in recent years; a recent Parliamentary inquiry in the country found that 90% of these licenses were issued by corrupt or fraudulent means.
In Tanzania, forests have been illegally razed to make way for jatropha, a plant commonly used to produce biofuels.
Cambodia, along with neighbouring Laos, is experiencing unprecedented growth in commercial agriculture. By the end of 2012, the government handed 2.6 million hectares of land, much of it forested, to large-scale agriculture producers.
In Bolivia, soy – 75% of which is exported – is the main engine behind illegal deforestation in the country's stretch of Amazon.
In most cases, the companies that illegally razed forests to grow these crops had some form of government permit in hand. However, the report finds that it was also often the case that these permits were corruptly issued or fraudulently obtained; that these companies were missing additional required permits and licenses; or that these companies violated laws when clearing and planting, causing significant negative impacts on the environment and the rights of local people who have lived in these forests for generations and who depend on them for their food and incomes.
"All over the tropics, companies are bribing officials to obtain permits, trampling the legal or customary rights of Indigenous Peoples and other forest-dwelling communities, clearing more forest than they are allowed, and causing pollution and environmental devastation by flouting the law," said Sam Lawson, the report author.
Export Agriculture a Key Driver of Illegal Deforestation
According to the report, the international trade in agricultural commodities (beef, leather, soy, palm oil, and wood products, including paper) produced on land illegally converted from tropical forest is worth an estimated US $ 61 billion per year. The EU, China, India, Russia, and the US are among the largest buyers of these commodities.