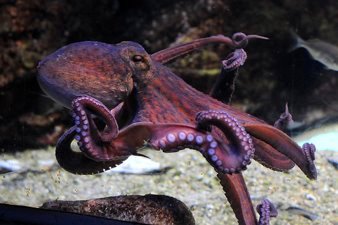 Many of Europe's marine species, habitats and ecosystems have been threatened for decades. As maritime economic activities are predicted to increase in coming years, a new briefing from the European Environment Agency (EEA) argues that the cumulative impact of human activity should be better managed to avoid irreversible damage to ecosystems.
Many European industries have growing cumulative impacts on the sea, including transport, fishing, offshore energy and tourism. The briefing, titled "Marine Messages", highlights the vulnerable nature of Europe's marine ecosystems, which may be irreversibly damaged if they continue to be exploited beyond sustainable limits. European countries need better information to help them understand the nature of these limits, the briefing says.
The publication is being launched to support the 'Healthy Oceans – Productive Ecosystems (HOPE)' Conference in Brussels on March 3-4, 2014.
Hans Bruyninckx, EEA Executive Director said, "The rich life in Europe's seas is an incredible asset. But we must ensure that this asset is used in a sustainable way, without surpassing the limits of what the ecosystems can provide. The current way we use the sea risks irreversibly degrading many of these ecosystems."
Approximately two fifths of the EU's population – 206 million people – live in a coastal area, and 23 of 28 Member States have a coastline. According to analysis from the European Commission, also published today, Member States must make urgent efforts and improve cooperation for the marine environment to reach good status by 2020, a target under the Marine Strategy Framework Directive (MSFD).
Europe's Marine Ecosystems Threatened by Multiple Pressures

Marine ecosystems are in a poor state of health in many areas, the EEA briefing says. There are more than 36,000 known animal and plant species in the European seas. Species surveys have found that 'good environmental status' can be applied to less than a fifth of species and a similar proportion of habitats.
Different seas face different problems. Eutrophication is leading to oxygen-free 'dead zones' in the Baltic and Black Seas, while trawling has been most destructive of the seabed in the North Sea. The Mediterranean is under pressure from a range of factors, many of them related to fishing and tourism.
In the last 25 years, sea surface temperatures have increased approximately 10 times faster than in other similar periods during the previous century or beyond. These climatic changes are pushing many organisms northwards – for example, some types of plankton appear to have moved 1,100km.
However, it is not a single issue but the cumulative effect of different pressures which is most important, the briefing notes. And many of these pressures are connected. For example, higher temperatures also increase oxygen depletion, affecting marine life, while increasing CO2 levels in the atmosphere are acidifying the oceans, making it difficult for some animals to form shells. Together, these changes may be disrupting whole ecosystems.
Nonetheless, there are also some encouraging signs. For instance, the available data shows some fish stocks climbing back to safe biological limits, and nutrient loads have been reduced in the Baltic and North East Atlantic. Europe is also making progress in designating marine protected area networks, which currently cover 6 % of European seas.
Looking Ahead

To see real improvement in our marine environment, the briefing recommends a two-fold approach. Firstly, Member States need to implement the MSFD in a more consistent and coherent manner that allows progress towards good environmental status to be monitored across regions. But seen over the longer perspective, reducing environmental pressures will require us to shift our economies and our values to a more sustainable ways of living, producing and consuming, the briefing notes.
Such a transition is an ambitious goal, but it is necessary to fulfil the vision of 'living well within the limits of our planet' contained in the 7th Environmental Action Programme, which sets out Europe's environmental policy priorities.
Check the following link to read/download the Full Briefing:
http://www.eea.europa.eu/publications/marine-messages
Source: EEA.