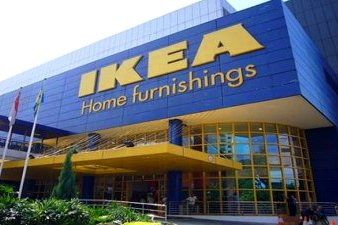 The IKEA Group Sustainability Report for fiscal year (FY*) 2013, released on January 28, shows strong progress on its People & Planet Positive strategy, building on its long history of working with sustainability. This is the first year IKEA Group reports progress against this new sustainability strategy.
Highlights from FY13
IKEA Group has committed to own 137 wind turbines and installed 550,000 solar panels, taking the company a step closer to producing more renewable energy than the total energy it uses by 2020.
Sold 22.4 million LED products including 12.3 million LED bulbs. The LED bulbs alone save each customer €7 in electricity costs per bulb, per year compared with incandescent. Customers will save a combined total of €86 million per year from the LED bulbs sold.
€40 million saved through energy efficiency efforts in stores and warehouses since FY10.
IKEA Group is one of the world's largest buyers of FSC-certified wood in the retail sector, and almost 1/3 of its wood was FSC certified or recycled in FY13. All wood was sourced from suppliers that meet the IKEA forestry standard.
The share of cotton from more sustainable sources used in products more than doubled, increasing from 34% (FY12) to 72% (FY13).
47% of managers are women.
The IKEA Foundation donated €101 million in 2013 to projects that support millions of children in some of the world's poorest communities, a 21% increase from 2012.
"Everyone, including IKEA, has a part to play in tackling the expected shortages of resources and the impacts of climate change while providing people with a good quality of life. With our vision of creating 'a better everyday life for the many people,' I am convinced there is no other way of doing business than in a sustainable way," said Peter Agnefjäll, President and CEO, IKEA Group.
"One year on from the launch of our People & Planet Positive strategy, we are making good progress – more than doubling the amount of cotton we buy from more sustainable sources, investing in renewable energy, and enabling millions of people to live more sustainably at home. The 22 million LED products we sold during the year show that more sustainable products have great appeal when customers can understand the savings they can make from day one," said Steve Howard, Chief Sustainability Officer, IKEA Group.
IKEA US FY13 Highlights
US Sustainability Initiatives ~ Renewable Energy:
In the midst of investing $ 150 million in Photovoltaic systems.
Currently, the 2nd largest private commercial solar US owner/user.
During FY13, IKEA US installed solar panels atop 8 more US locations. Total IKEA US units now covered is 39 out of 44 (90%). For FY14, IKEA US will expand the solar installations atop 3 locations as well as install an array atop its future Miami-Dade store set to open in Summer 2014.
When all projects are complete, total generating capacity will be 38 mega-watts with a yearly output of 49 gigawatts of electricity, the equivalent of powering more than 4,200 homes annually. This will mean 33,000 less tons of CO2 being created and is equivalent to removing 6,600 cars from the road.
For FY14, IKEA US will be constructing a geothermal project to heat and cool the future Kansas City-area store opening Fall 2014 in Merriam, KS. FY14 plans include furthering these investments into other alternative energy technologies.
In April 2013, IKEA US signed CERES, a Climate Declaration, in coordination with BICEP (Business for Innovative Climate and Energy Policy) with other major businesses – a declaration to tackle climate change.
US Social Program Initiatives:
IKEA US supported thousands of Hurricane Sandy victims through the donation of IKEA home furnishing products as well as cash donations. These projects included:
– American Red Cross and Save the Children in-kind donations.
– Solar installation on Brooklyn Community Center, partnering with Global Green.
– Furniture donations through Stephen Siller Tunnels to Towers Foundation.
– Save the Children furnishing donations and children's play products for early learning centers.
– Cash donations to American Forests Disaster ReLeaf to plant trees in Asbury Park, NJ (a heard hit area by Hurricane Sandy). Money was raised by customer store donation program and IKEA match dollar donation.
IKEA US Soft Toy Program FY13 raised over $ 1 million and $ 16.2 million globally, impacting 10 million children to have access to a quality education.
Click here to read/download the IKEA Sustainability Report FY13.
Source: IKEA.
* The fiscal year (FY) 2013 of IKEA runs from September 1, 2012, to August 31, 2013.
About IKEA Group
IKEA is a Swedish company registered in the Netherlands that designs and sells ready-to-assemble furniture, appliances, and home accessories. As of January 2008, the company is the world's largest furniture retailer. There are currently 305 IKEA Group stores in 26 countries. In FY13, the IKEA Group had 135 000 co-workers, 684 million visitors to the stores and 1.3 billion visitors to IKEA.com. For more information, visit www.IKEA.com.