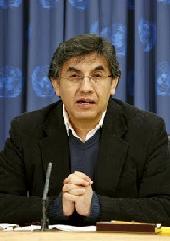 At a Headquarters press conference today, Bolivian Ambassador Pablo Solon strongly objected to a negotiating text for a new climate deal given during working sessions of the United Nations Framework Convention on Climate Change (UNFCCC) in Bonn, Germany, earlier this month.
Mr. Solon, who leads his countries climate change negotiations, noted that final texts produced by the Chair of the Ad-Hoc Working Group on long-cooperative action absolutely did not reflect the submissions of his country. He added that other suggestions from developing countries were also ignored, saying many of them had been "completely erased".
The submissions of Bolivia included critical points that stemmed from the World People's Conference on Climate Change and the Rights of Mother Earth that had taken place from 20 to 22 April 2010. He said that, during that conference, 35,000 people from 140 countries had gathered in Cochabamba, Bolivia, and formulated the Cochabamba People's Agreement, which was a landmark, consensus-based document with substantive proposals.
While the United Nations Framework Convention negotiating text under consideration in Bonn was meant to facilitate further climate change negotiations, Ambassador Solon warned that they would result in stalled talks, because Bolivia's positions, and those of many other "Group of 77" developing countries and China, had been excluded. He called the text "imbalanced" and one-sided. During the last round of negotiations, he said, the only thing that had happened was commenting on the texts, thus leaving no real time for substantive talks. A second text had later been produced, but had also fallen short. In fact, instead of having more options, it had excluded positions that were there even in the first versions.
"It excluded positions of Bolivia, plus ones that other countries had agreed upon, such as need for equitable distribution of atmospheric space." He added that decisions that were also other proposals from the Group of 77 had been eliminated, for example, the time frame of the Second Commitment Period of the Kyoto Protocol.
During the closing plenary in Bonn, between 30 and 40 countries had expressed disappointment with the new text. "We said it very clearly: we expected a text with different options in order to negotiate them; not a text of what the Chair thinks is the consensus of a discussion that has not been a negotiation between the parties. It is not for the Chair to say whether we have consensus or not. It is the role of the Chair to facilitate negotiations," he said.
The next step was hopefully another working text, which was due by mid-July. "We have given the Chair of the working delegation a third chance," he said, adding he hoped there would not be another "mistake". He expected a text that represented all interests. If not, the meeting would be riddled with procedural, rather than substantive, discussions.
When asked about the recent meeting between United Nations Secretary-General Ban Ki-moon, Bolivian President Evo Morales and participants of the Cochabamba Conference, Mr. Solon said that visit had been productive and that the Cochabamba meeting had received "good comments" from the Secretary-General and other members of the United Nations system. However, he underscored the need for the United Nations and all intergovernmental bodies to ensure that the interests of all countries were represented in climate negotiations, saying that, after all, the process was supposed to be a multilateral and "inclusive process".
Lastly, when asked about the time frame of discussions and whether compromises and consolidation of a negotiation text would lead to decades of delay in progress on climate change, he said, "The problem here is that we don't have time. Climate change is coming [and] in 20 years, there will be nothing left to negotiate." Moreover, if the world continued to send 40 gigatons of carbon dioxide equivalent into the atmosphere each year, it would be a disaster. Thus, he concluded, the parties should come to an agreement in Cancun later this year. If there was no agreement, "we will suffer disaster", he said.
Source: UN Press Release on Press Conference by Permanent Representative of Bolivia on Climate Change Talks.